Quran Sheets Printed in Food Colour (60-Day Treatment)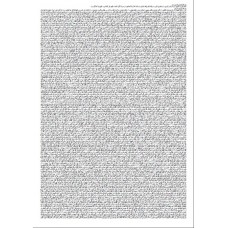 Brand:
Ruqya Centre
Product Code:
quransheet
Reward Points:
10
Availability:
In Stock
Price: £10.99
Price in reward points: 1000
Full Quran (8-Double sided A4 Sheets) together with 45-Ayats Quran Sheet printed with food colour, ready for use for drinking, sprinkling in the home and bathing.
This pack is suitable to treat intense effects of sehr. The full-Quran treatment will weaken the effects whilst the 45-Ayats will provide further protection by Allahs will.
Pack Includes:
Full Quran (8-Sheets) (Sufficient for 80 Litres water)
3 Quranic Ayat Sheets Against Sehr (One Sheet for 20-Litres)
Selected Duas Sheet
Ruqya Ayats Sheet
Full instructions
Drink at least one Litre of water daily
Use 2-Litres for Bathing
Use some for spraying your home
Use Quranic water for your daily cooking needs
Write a review
Your Name:
Your Review:
Note: HTML is not translated!
Rating:
Bad
Good
Enter the code in the box below: